TOURISM NT INDUSTRY UPDATE - KEEPING YOU INFORMED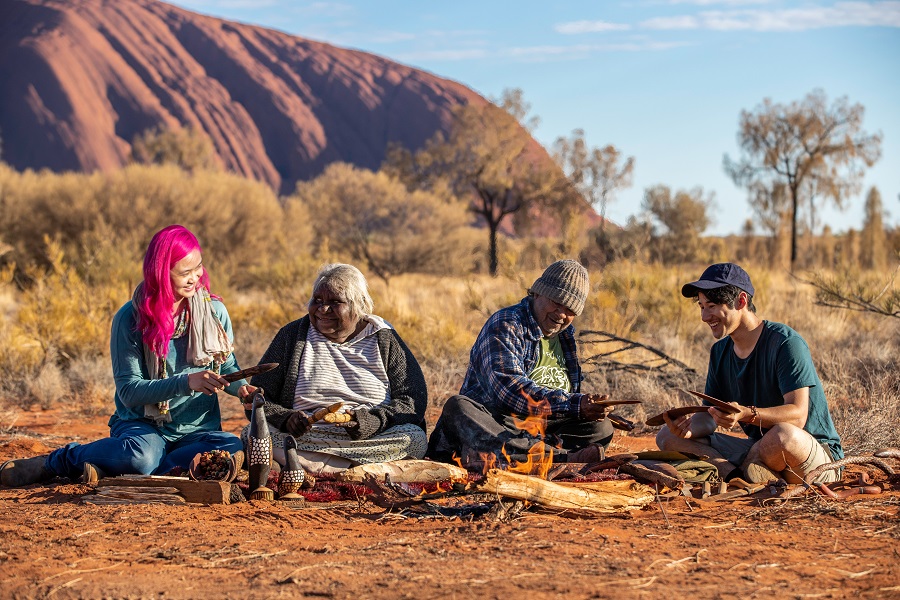 Seek Different National Campaign Launched
A new Tourism NT domestic awareness building campaign to inspire Australians to seek different and holiday in the NT is being rolled out around the country with advertising in market to the end of April 2021. In line with the Tourism NT brand which promotes the Northern Territory as 'Different in every sense', the 'Seek Different' campaign has been designed to create awareness of the Northern Territory as a holiday destination as well as drive bookings with domestic travel intenders. READ MORE
Nitmiluk Upgrades to boost tourism

More than 20km of shared walking and mountain bike trails are now open at Nitmiluk National Park. The works are part of the Northern Territory Government's job-creating $15.4 million investment into new and refreshed infrastructure at Nitmiluk National Park through the $5.4 million Turbocharging Tourism and the $10 million Infrastructure packages.
March Mountain Biking Campaign

A new mountain biking (MTB) campaign is in market from 1 March – 31 April 2021 to increase the overall domestic holiday visitation, audience pool within audience manager for Mountain biking in the NT, increase registrations for local MTB events and overall awareness of MTB in the NT.
Park Fee Changes

Changes to park fees will come into effect from 1 July 2021 including:

• Introduction of an online booking system

• Increased camping fees (of up to $3.40 per night in 2021)

• Multi-day walking fees for some trails

For tourism operators multi-day walking fees for walking trail tourism operators, will be deferred until next year, however noting fees for individuals to undertake multi-day walks will begin 1 July 2021.

IFurther information sessions for tourism operators will also be provided about the online booking system once the procurement has been finalised and the booking system development is underway. This is anticipated for April. READ MORE
Roadhouse Grants Awarded

A total of 35 remote roadhouses, wayside inns and caravan parks across the Territory will receive almost $4 million to upgrade their facilities. The renovations are funded by the Roadhouse to Recovery grants, which help businesses improve infrastructure and visitor experience, for the Territory's booming drive tourism market.
Surreal Settings... unreal events campaign

The Northern Territory is being promoted as a destination for unique events with a campaign launched in early February to interstate audiences. Promoting the Territory's annual events season from art and music to food and sport, the Territory puts on events like nowhere else. Event organisers are encouraged to ensure their events are listed and up to date on the Australian Tourism Data Warehouse (ATDW) to be included on Tourism NT's events portal
Virtual NT Product showcase

More than 30 Territory tourism operators have been showcasing their tourism products to Australian domestic and New Zealand based travel agents and wholesalers this month in an inaugural major virtual event, NT Product Showcase 2021. To learn more about the best of what the Northern Territory has to offer watch on demand
Update your subscription preferences

You can now update your subscription preferences to any of Tourisms NT's regular newsletters.
Tourism Towards 2030

The Tourism Towards 2030 Conference returns in 2021 as part of the Northern Territory's Tourism Industry Strategy 2030, the conference brings the local industry together with the common goal of growing the Territory's tourism industry. The full day conference will be held in both Darwin and Alice Springs and provides attendee's with the latest market insights and industry trends as well as provide practical tips to grow businesses and the opportunity to network with like-minded operators.
EOI open for April tactical flash sale

Tourism NT and Tripadvisor invite you to provide expressions of interest in our domestic tactical flash sale marketing activity in April 2021, following the success of the January Flash Sale which delivered an average of 180% YOY growth in bookings to those who participated. Each participating operator will be featured in the campaign creative. If you would like to participate, or for more information, email [email protected]
Get involved in Seek Different

For the NT tourism industry this is a great opportunity to ensure you package with travel retailers, take advantage of all the traffic being driven to www.northernterritory.com and align with the campaign's key messages to highlight your tourism product/s. There is an industry toolkit with a range of assets and key messages including campaign templates and imagery that you can use to share the message.
Participate in Arts Trail Campaign

Tourism NT are seeking participation from industry for the 2021 Territory Arts Trail campaign which is set to launch in April. If you are an art centres, tour operator, museum, event or attraction that has 50% arts related or 50% of the product or experience has an Aboriginal arts or cultural focus, please fill in the checklist and submit this to [email protected] by COB Friday 12 March. More information on the marketing campaign will be available soon. To keep up to date with Arts Trail news subscribe to Arts NT News Bite Size.
Hotel Energy Uplift Grants

The Hotel Energy Uplift Program provides grants to support small and medium hotels (1 to 99 guestrooms) to reduce their energy use, improve energy productivity and deliver carbon abatement. Grants of between $10,000 and $25,000 are available, and are available on a first-come-first serve basis until funding is exhausted.

Open date: 24 Feb 2021 09:00 AM AEDT.

Close date: 01 Apr 2021 05:00 PM AEST.
Dark Skies Festival for Alice Springs

A captivating new festival celebrating our innate connection to the night skies will take place at the Earth Sanctuary in Alice Springs from 6-14 May 2021. Dark Skies Festival will take visitors on a journey of light, sound and darkness with a fusion of art, science, music and culture – and even a meteor shower.
March Madness for fishos

Million Dollar Fish has upped the ante for the final month of the competition, offering double the prize money to the first fisho who catches a tagged fish in March (not including a fish with a $1 million winning tag). Season 6 of the competition ends on 31 March 2021.
Tickets on sale NRL Anzac Round

Tickets are selling well for the NRL's Parramatta Eels clash with Brisbane Broncos, scheduled as part of the Anzac Round at 7.25pm on 23 April 2021, at TIO Stadium in Darwin. An army of interstate fans are expected to attend the game, which will also showcase Darwin to a national audience via broadcast on Channel 9.

To buy tickets CLICK HERE
Exciting new events for the NT

The Territory's world-class events calendar is set to expand after 11 new events received funding through NT Major Events Company's latest funding round.They include the Dark Skies Festival in Alice Springs, a week-long celebration of our incredible star-studded skies, and the Top End Feastival, a foodie extravaganza to showcase our world-class produce.In total, 29 events received funding, including the Wide Open Space Festival, Darwin Lions Beer Can Regatta and the Junk Sculpture Festival to name a few.For the full list of successful recipients CLICK HERE
| | | |
| --- | --- | --- |
| | | SUNS vs Hawthorn Darwin match launched AFL NT welcomed the Gold Coast Suns' Chief Executive Mark Evans and a several NT-raised SUNS to Darwin's TIO Stadium on 18 February to officially launch the club's 2021 Darwin match.The much-anticipated game against Hawthorn will be held during the Sir Doug Nicholls Round, with the exact date and time yet to be announced. Tickets will go on sale when further details are confirmed.To guarantee entry to the game, SUNS supporters can sign up for a Territory SUN membership by visiting www.goldcoastfc.com.au/membership |
Parrtjima 2021 Program

The full Parrtjima 2021 program is now available, and promises an incredible experience in the beautiful Red Centre with a slew of world-class artists, musicians and speakers. With names such as Casey Donovan, Electric Fields and Shellie Morris on the music line-up, and author Bruce Pascoe and Professor Marcia Langton joining the list of speakers, there is plenty of interest in this year's program and hotels are filling up fast. Visit www.parrtjima.com.au