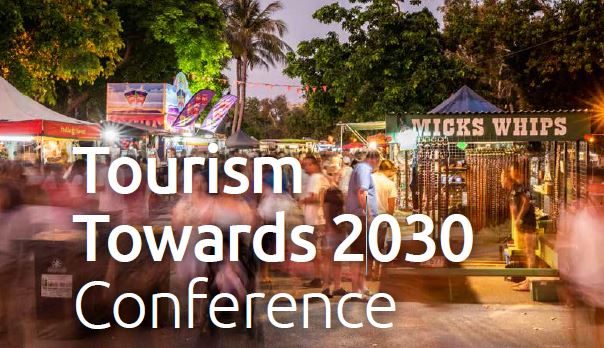 2030 CONFERENCE IN DARWIN & ALICE SPRINGS
The Tourism Towards 2030 Conference returned in 2021 as part of the Northern Territory's Tourism Industry Strategy 2030, bringing the local industry together with the common goal of growing the Territory's tourism industry. The full day conferences were held in both Darwin and Alice Springs and provided attendee's with the latest market insights and industry trends as well as providing practical tips to grow businesses and the opportunity to network with like-minded operators.
Livin' Local NT Photo Competition

Tourism NT's Livin' Local NT photo competition is for Territorians to showcase the Northern Territory through a local's eye. By harnessing the passion of locals to capture and share the NT through their social media, the competition aims to show the rest of Australia what they're missing out on and encourage holiday visitation.
Half price flights to Darwin, Alice Springs and Uluru

Jetstar, Virgin Australia and Qantas have all launched half-price sales on flights to tropical Darwin and the iconic Red Centre destinations of Alice Springs and Uluru today, allowing domestic travellers to make huge savings on a Northern Territory holiday. From April 2021, Jetstar Australia will progressively increase its flight frequency to Ayers Rock Airport from Brisbane (up to 3 times a week), Melbourne (up to 5 times a week) and Sydney (up to 7 times a week).
Nominations open for 2021 Brolga Awards

Nominations are now open for the 2021 Brolga Northern Territory Tourism Awards, the official tourism awards program for the Northern Territory.
Funding to drive tourism in Central Australia

The Northern Territory Government continues to back tourism in Central Australia and Alice Springs with a $1.25 million boost to Tourism Central Australia.
Red Centre and Top End featured on The Project

The Red Centre and the Top End were featured on Channel 10's The Project during March with one of Australia's best-known entertainers Courtney Act co-hosting live from the Alice Springs Desert Park and regular guest panellist Jan Fran experiencing some of the Territory's best destinations and tourism experiences.
Tourism NT appoints International Trade Development Coordinator - Japan market

Tourism NT has appointed Takahiro Kondo to the newly created position of International Trade Development Coordinator - Japan market. With a strong background in touring sales and product development particularly within the Japan market, Takahiro brings a wealth of knowledge to his new role and is highly regarded within the Australian inbound travel sector and throughout Asia.
Accessible Tourism Options in ATDW

Did you know the accessible tourism sector is worth approximately $10 Billion? And it doesn't just mean people travelling with a wheelchair, it includes parents with prams or even Baby Boomers! Consider these audiences when writing your ATDW content and include descriptions and imagery that will make it easier for them to plan their holidays. For assistance email [email protected]
Create a Laksa inspired package

Activate Darwin invites all Tourism businesses to submit a Laksa Inspired package. Your package will be part of the 2021 Darwin International Laksa Festival held from 1 – 28 November 2021. Packages will be sold through distribution partners, including Tourism Top End. To be involved and to express your interest email [email protected]
Get involved in upcoming Fishing Marketing Campaign

Tourism NT are working in collaboration with the Northern Territory Guided Fishing Industry Association (NTGFIA) on a dedicated Fishing Marketing Campaign for bookable fishing tour operators. To be involved and to express your interest email [email protected] by COB 7 April 2021
Trade Training Program webinars

Tourism NT runs a quarterly training program with travel trade based in Australia and New Zealand, involving live webinars and online learning resources. If you would like to showcase your trade ready product to trade within the program, please email [email protected]

View the online trade training program HERE
Workshop: the Time Tamer

Join Barbara Clifford, the Time Tamer, to take control of your time this busy season through mastering procrastination and prioritisation. This two hour workshop will give you practical tools to improve your clarity and motivation. The workshop is from 2-4pm Wednesday 28 April, Ghost Gum Room, Tourism NT, Level 1 Alice Plaza, Todd St Mall, Alice Springs.

For more information or to register CLICK HERE
First Nations Culture in Spotlight

A new advertising campaign supported by the NT Government is positioning the Territory as 'the beating heart of First Nations culture', and encouraging visitors to head to the Top End to experience seven incredible events that run throughout August.

To find out more visit www.darwinfestival.org.au/beatinghear
New Festival Tickets on Sale

Early bird tickets are on sale for Central Australia's new Dark Skies Festival, which will take place from 6-14 May 2021 at the Earth Sanctuary. Organisers are seeing plenty of interest in this new addition to Alice's events calendar.

To find out more visit https://earth-sanctuary.com.au/dark-skies-festival
Supercars concert confirmed

Bernard Fanning will headline the Saturday evening concert at this year's Merlin Darwin Triple Crown, giving interstaters even more reasons to travel for the event. The legendary Powderfinger front man will be joined by Brisbane's Ball Park Music and electronic musician Alice Ivy at Hidden Valley Raceway on 19 June 2021.

Find out more at https://darwinsupercars.com.au/